[ad_1]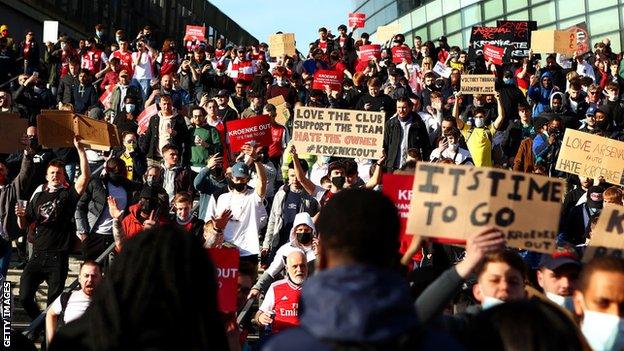 More than 1,000 Arsenal supporters gathered outdoors Emirates Stadium earlier than Friday's sport against Everton to protest against proprietor Stan Kroenke's function within the failed European Super League.
The protestors referred to as for Kroenke to go away the membership.
It follows related protests by Chelsea fans on Tuesday.
Around 1,000 Blues supporters had gathered outdoors Chelsea's Stamford Bridge floor earlier than their sport against Brighton to protest at their membership's involvement.
Arsenal apologised in an open letter to their fans following their withdrawal from the Super League and stated that they had "made a mistake", including they have been withdrawing after listening to them and the "wider football community".
The Gunners board stated they didn't intend to "cause such distress" and that they joined the Super League as a result of they "did not want to be left behind" and needed to make sure the membership's future.
"Our aim is always to make the right decisions for this great football club, to protect it for the future and to take us forward," they added.
"We didn't make the right decision here, which we fully accept."
American businessman Kroenke was appointed to the Arsenal board of administrators in 2008 and have become the bulk shareholder of the membership in 2011.
Morph.toInit.bundles.push(operate() { !operate(e){operate t(r){if(n[r])return n[r].exports;var o=n[r]={i:r,l:!1,exports:{}};return e[r].name(o.exports,o,o.exports,t),o.l=!0,o.exports}var n={};t.m=e,t.c=n,t.d=operate(e,n,r){t.o(e,n)||Object.defineProperty(e,n,{configurable:!1,enumerable:!0,get:r})},t.n=operate(e){var n=e&&e.__esModule?operate(){return e.default}:operate(){return e};return t.d(n,"a",n),n},t.o=operate(e,t){return Object.prototype.hasOwnProperty.name(e,t)},t.p="",t(t.s=3)}([function(e,t){e.exports=React},function(e,t,n){e.exports=n(5)()},function(e,t,n){"use strict";function r(e){return e&&e.__esModule?e:{default:e}}function o(){return this.url}function u(e,t){return e.url.replace("{identifier}",t[1])}var i=r(n(9)),a=r(n(10)),c=r(n(11));e.exports={youtube:{regex:/http(?:s)?://(?:www.)?youtu(?:be.com|.be)/(?:watch)?(?:/?)?(?:.*v=)?(.[^&#]*)/i,url:"https://www.youtube.com/embed/{identifier}",transform:u,component:a.default},twitter:{regex:/^http.+twitter.com/.*/status/(.*)/i,transform:o,component:i.default,cssClasses:"twitter-tweet",componentMount:function(){c.default.twitter()}},instagram:{regex:/^http.+instagr(?:.am|am.com)/i,transform:o,component:i.default,cssClasses:"instagram-media instagram-iframe-container",componentMount:operate(e){c.default.instagram(e)}}}},operate(e,t,n){"use strict";var r=operate(e){return e&&e.__esModule?e:{default:e}}(n(4));Morph.modules["[email protected]"]=r.default},operate(e,t,n){"use strict";operate r(e){return e&&e.__esModule?e:{default:e}}operate o(){if("function"!=typeof WeakMap)return null;var e=new WeakMap;return o=operate(){return e},e}operate u(e){"@babel/helpers – typeof";return(u="function"==typeof Symbol&&"symbol"==typeof Symbol.iterator?operate(e){return typeof e}:operate(e){return e&&"function"==typeof Symbol&&e.constructor===Symbol&&e!==Symbol.prototype?"symbol":typeof e})(e)}operate i(e,t){if(!(e instanceof t))throw new KindError("Cannot call a class as a function")}operate a(e,t){for(var n=0;n<t.size;n++)}operate c(e,t,n){return t&&a(e.prototype,t),n&&a(e,n),e}operate l(e,t){if("function"!=typeof t&&null!==t)throw new KindError("Super expression must either be null or a function");e.prototype=Object.create(t&&t.prototype,{constructor:{worth:e,writable:!0,configurable:!0}}),t&&s(e,t)}operate s(e,t){return(s=Object.setPrototypeOf||operate(e,t){return e.__proto__=t,e})(e,t)}operate f(e){return operate(){var t,n=y(e);if(m()){var r=y(this).constructor;t=Reflect.assemble(n,arguments,r)}else t=n.apply(this,arguments);return p(this,t)}}operate p(e,t)operate d(e){if(void 0===e)throw new ReferenceError("this hasn't been initialised – super() hasn't been called");return e}operate m(){if("undefined"==typeof Reflect||!Reflect.assemble)return!1;if(Reflect.assemble.sham)return!1;if("function"==typeof Proxy)return!0;strive{return Date.prototype.toString.name(Reflect.assemble(Date,[],operate(){})),!0}catch(e){return!1}}operate y(e){return(y=Object.setPrototypeOf?Object.getPrototypeOf:operate(e)Object.getPrototypeOf(e))(e)}operate b(e,t,n){return t in e?Object.defineProperty(e,t,{worth:n,enumerable:!0,configurable:!0,writable:!0}):e[t]=n,e}Object.defineProperty(t,"__esModule",{worth:!0}),t.default=void 0;var h=operate(e){if(e&&e.__esModule)return e;if(null===e||"object"!==u(e)&&"function"!=typeof e)return{default:e};var t=o();if(t&&t.has(e))return t.get(e);var n={},r=Object.defineProperty&&Object.getOwnPropertyDescriptor;for(var i in e)if(Object.prototype.hasOwnProperty.name(e,i))a.set)?Object.defineProperty(n,i,a):n[i]=e[i]return n.default=e,t&&t.set(e,n),n}(n(0)),v=r(n(1)),g=n(7),_=r(n(8)),w=r(n(12)),O=r(n(13)),j=operate(e){operate t(e){var r;i(this,t),r=n.name(this,e),b(d(r),"getCaption",operate(e){return e?h.default.createElement("figcaption",{className:"sp-c-media-asset__caption gel-brevier"},e):null});var o=e.url,u=e.brandingTool;return r.state={embed:h.default.createElement(_.default,{url:o,brandingTool:u}),presentReportButton:!1},r}l(t,e);var n=f(t);return c(t,[{key:"componentDidMount",value:function(){if((0,g.getCookiePolicy)()){var e=this.props,t=e.url,n=e.title;this.setState({embed:new O.default(t,n),showReportButton:!0})}}},{key:"render",value:function(){var e=this.state,t=e.embed,n=e.showReportButton,r=this.props,o=r.caption,u=r.nopal;return h.default.createElement("div",{className:u?"sp-sport-embed-no-pal":""},h.default.createElement("div",{className:"sp-qa-sport-embed-container"},t,n&&h.default.createElement(w.default,{text:"Report"}),this.getCaption(o)))}}]),t}(h.Component);j.propTypes={url:v.default.string.isRequired,brandingTool:v.default.string,caption:v.default.string,title:v.default.string,nopal:v.default.bool},j.defaultProps={brandingTool:"",caption:"",title:"",nopal:!1};var E=j;t.default=E},operate(e,t,n){"use strict";operate r(){}operate o(){}var u=n(6);o.resetWarningCache=r,e.exports=operate(){operate e(e,t,n,r,o,i){if(i!==u){var a=new Error("Calling PropTypes validators directly is not supported by the `prop-types` package. Use PropTypes.checkPropTypes() to call them. Read more at http://fb.me/use-check-prop-types");throw a.identify="Invariant Violation",a}}operate t(){return e}e.isRequired=e;var n={array:e,bool:e,func:e,quantity:e,object:e,string:e,image:e,any:e,arrayOf:t,component:e,elementType:e,instanceOf:t,node:e,objectOf:t,oneOf:t,oneOfType:t,form:t,precise:t,checkPropTypes:o,resetWarningCache:r};return n.PropTypes=n,n}},operate(e,t,n){"use strict";e.exports="SECRET_DO_NOT_PASS_THIS_OR_YOU_WILL_BE_FIRED"},operate(e,t){e.exports=Morph.modules["[email protected]"]},operate(e,t,n){"use strict";operate r(e){return e&&e.__esModule?e:{default:e}}var o=r(n(0)),u=r(n(1)),i=r(n(2)),a=operate(e){return Object.keys(i.default).filter(operate(t){return e.match(i.default[t].regex)})},c=operate(e){var t=e.url,n=a(t)[0];return o.default.createElement("div",{className:"gs-u-clearfix"},o.default.createElement("a",{className:"sport-social-media-embed__cta gel-long-primer-bold",href:t},o.default.createElement("span",{className:"qa-cta-text gs-o-bullet"},o.default.createElement("span",{className:"gs-o-bullet__icon gel-icon sport-social-media-embed__cta-icon–embed"},o.default.createElement("svg",{viewBox:"0 0 32 32"},o.default.createElement("path",{d:"M12 0v5h11.5l-5 5H0v22h22V17.5l-2 2V30H2V12h14.5l-7.8 7.7 3.6 3.6L27 8.5V20h5V0"}))),o.default.createElement("span",{className:"gs-o-bullet__text gs-u-pl"},o.default.createElement("span",null,"View more on "),o.default.createElement("span",{className:"sport-social-media-embed__cta–embed-type"},n)))))};c.propTypes={url:u.default.string.isRequired},e.exports=c},operate(e,t,n){"use strict";operate r(e){return e&&e.__esModule?e:{default:e}}operate o(e){"@babel/helpers – typeof";return(o="function"==typeof Symbol&&"symbol"==typeof Symbol.iterator?operate(e){return typeof e}:operate(e){return e&&"function"==typeof Symbol&&e.constructor===Symbol&&e!==Symbol.prototype?"symbol":typeof e})(e)}operate u(e,t){if(!(e instanceof t))throw new KindError("Cannot call a class as a function")}operate i(e,t){for(var n=0;n<t.size;n++)}operate a(e,t,n){return t&&i(e.prototype,t),n&&i(e,n),e}operate c(e,t){if("function"!=typeof t&&null!==t)throw new KindError("Super expression must either be null or a function");e.prototype=Object.create(t&&t.prototype,{constructor:{worth:e,writable:!0,configurable:!0}}),t&&l(e,t)}operate l(e,t){return(l=Object.setPrototypeOf||operate(e,t){return e.__proto__=t,e})(e,t)}operate s(e){return operate(){var t,n=m(e);if(d()){var r=m(this).constructor;t=Reflect.assemble(n,arguments,r)}else t=n.apply(this,arguments);return f(this,t)}}operate f(e,t)"object"!==o(t)&&"function"!=typeof t?p(e):toperate p(e){if(void 0===e)throw new ReferenceError("this hasn't been initialised – super() hasn't been called");return e}operate d(){if("undefined"==typeof Reflect||!Reflect.assemble)return!1;if(Reflect.assemble.sham)return!1;if("function"==typeof Proxy)return!0;strive{return Date.prototype.toString.name(Reflect.assemble(Date,[],operate(){})),!0}catch(e){return!1}}operate m(e){return(m=Object.setPrototypeOf?Object.getPrototypeOf:operate(e)Object.getPrototypeOf(e))(e)}Object.defineProperty(t,"__esModule",{worth:!0}),t.default=void 0;var y=r(n(0)),b=r(n(1)),h=operate(e){operate t(){return u(this,t),n.apply(this,arguments)}c(t,e);var n=s(t);return a(t,[{key:"componentDidMount",value:function(){var e=this.props.componentMount;e&&e.bind(this)()}},{key:"render",value:function(){var e=this.props,t=e.cssClasses,n=e.title,r=e.url;return y.default.createElement("div",{className:"sp-qa-sport-social-media-embed"},y.default.createElement("blockquote",{"data-instgrm-captioned":!0,scrolling:"no",className:t},y.default.createElement("a",{href:r},n)))}}]),t}(y.default.Component);h.propTypes={componentMount:b.default.func.isRequired,cssClasses:b.default.string,title:b.default.string,url:b.default.string.isRequired},h.defaultProps={cssClasses:"",title:""};var v=h;t.default=v},operate(e,t,n){"use strict";operate r(e){return e&&e.__esModule?e:{default:e}}operate o(e){"@babel/helpers – typeof";return(o="function"==typeof Symbol&&"symbol"==typeof Symbol.iterator?operate(e){return typeof e}:operate(e){return e&&"function"==typeof Symbol&&e.constructor===Symbol&&e!==Symbol.prototype?"symbol":typeof e})(e)}operate u(e,t){if(!(e instanceof t))throw new KindError("Cannot call a class as a function")}operate i(e,t){for(var n=0;n0))return a.default.createElement(n.part,{url:n.remodel.name(this,n,e),title:this.title,cssClasses:n.cssClasses,componentMount:n.componentMount});return a.default.createElement(c.default,{url:this.url,title:this.title})}operate i(e,t){return this.url=o(e),this.title=t,u.name(this)}var a=r(n(0)),c=r(n(14)),l=r(n(2));e.exports=i},operate(e,t,n){"use strict";operate r(e){return e&&e.__esModule?e:{default:e}}Object.defineProperty(t,"__esModule",{worth:!0}),t.default=void 0;var o=r(n(0)),u=r(n(1)),i=operate(e){var t=e.url,n=e.title;return o.default.createElement("a",{href:t},n)};i.propTypes={url:u.default.string.isRequired,title:u.default.string},i.defaultProps={title:""};var a=i;t.default=a}]);
//# sourceMappingURL=bundle.js.map;
});
[ad_2]
#Arsenal #fans #hold #protest #owners